Prey enters pre-load on Triton
Triton was quietly released at E3 this year, though as a "soft launch" nothing really changed except the removal of its beta tags and the sale of a handful of disinteresting budget titles. The system is now starting to move into top gear however, with this week's launch of the Prey pre-load (thanks Sarkie) starting the push.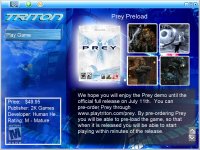 Triton's interface has undergone improvement, but is still clunky.
Yes, pre-load: DiStream have sensibly followed Valve's lead and are offering an encrypted download of the game's content ahead of its July 11 release. Unlike Valve's solution however, Triton pre-loaders must also be pre-purchasers; the download will not commence without the billing of the user's credit card. Perhaps this is a bandwidth-saving move, but for my part I believe that it is to ensure that the inevitable system bottlenecks and bugs do not overwhelm Triton during its first public trial. Certainly, it is an approach that improves on the various baptisms of fire weathered by Valve and their systems.
But for all the benefits requesting card details up-front brings, the issue still remains of enticing users to hand them over. When you pre-order a game through Steam the chances are you already have it safe and secure on your system, and that leads to several subtle psychological effects. Are you really going to let it sit there and rot? Why not slap in your 16-digit string and make your time worthwhile? When you have nothing but a handful of screenshots and a PR blurb in reach, making the leap is much harder.
Add to that the fact that most will never have heard of Triton before seeing its logo in the Prey demo's nag screen, and an interface that, while having being greatly improved from its original incarnation, is still bulky and inefficient, and you have a recipe for low uptake. Despite my knowledge of DiStream and Triton, I too am finding myself somewhat apprehensive of making the purchase, which comes to £27.35 or $49.95.
The price, like Half-Life 2's, is similar to that of the game's retail release, though probably for different reasons. Valve resolved the issue of enticing buyers without undercutting retailers with it's Bronze, Silver and Gold packages, but with only one game Human Head and DiStream do not have that luxury, piling on yet another obstacle.
Like Valve, DiStream are unlikely to release sales figures. In all but the most extreme of outcomes we will only be able to speculate on the service's success: right now, it looks like things are tipping towards under-achievement.
---