Guest Passes resurface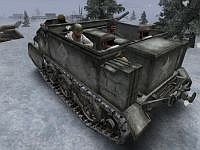 Take your friends into battle!
Regards to Andy S, who spotted a series of new strings added to Steam's interface in the recent platform update. "Guest Passes" are on the way: you'll be able to hand out free copies of participating multi-player games to your friends, through Friends or via e-mail, for them to play online with you. This is the first we've heard of the idea since it was mentioned offhand last March, and it seems to have survived the throes of development largely intact.
The big question is how the guess passes will be handled and restricted; the good news is that most of the story can be extracted from the steamui_english.txt file.
There are only so many guest passes per game
Passes can only be held in receipt by one account at a time
Passes are returned to you after each use and can be resent
You can only send someone a guest pass once every 24 hours
An account cannot receive a guest pass for the same game twice
Guest passes "expire" after an indefinite amount of time (minutes, hours and days are mentioned)
There are also some unconfirmed but probable limitations that we can safely guess at:
Guest passes will probably only be valid for online play
You may only be able to play on servers in which the sender of the guest pass is playing
VAC-banned accounts will almost certainly be unable to give out passes
Similarly, guest passes might only function on VAC-secure servers
The duration of a pass' validity will probably vary from game to game (for the same reasons that Red Orchestra had a free week while Day of Defeat: Source only had a free weekend)
Even with all of the conditions we are aware of, there are plenty of loopholes around. It isn't clear how Valve will prevent malicious users from giving out a constant stream of guest passes to different accounts/computer combinations, for instance, and there will inevitably be a myriad of other issues to be contended with. We will have to see what happens.
The nature of guest passes is still somewhat uncertain, but there is one thing we can be sure of: the news of their return is going to be very well received! 🙂
---