TSR Development Environment
I've recently moved to the North. This is now my working area for the site: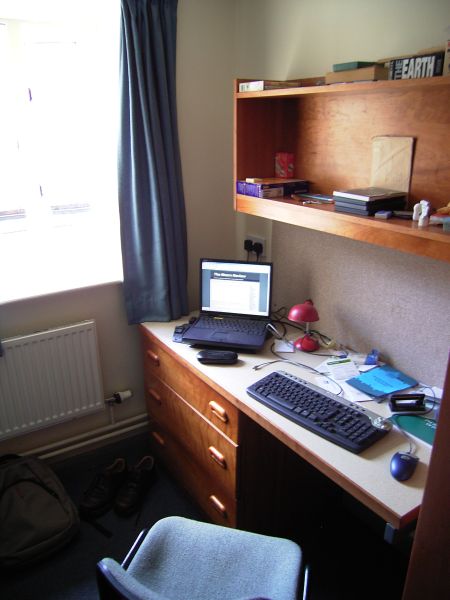 The laptop you can see features a Pentium III chip with an astounding 500MHz clock for ultra-speedy calculations. Two USB ports allow me to make use of the latest digital devices, and 256MB of RAM and an ATI RAGE Mobility video card combine make my multimedia experience second-to-none. A gorgeous 12″ LCD display at a native 1024×768 and with a refresh rate of up to 60Hz rounds off the package.
While I'm not going to be playing many games on this hardware (even Defcon's menu can't break 2FPS), despite or perhaps because of the abysmal nature of the halls' internet connection Steam can connect without hitting any closed ports. I should be able to soldier on, save perhaps for any first-hand analysis of the something being integrated into Team Fortress 2.
The piece on publisher contracts I was talking about, er, three weeks ago (it's Valve's influence, I swear) has been dusted off now that I'm settled in. For the time being things aren't too hectic, and hopefully there won't be any more delays quite like this latest one, but as I hope you all understand it is extremely hard to make promises.
---