A World Of My Own
AWOMO's logo and 'virtual island'.
Virgin Games' upcoming rent-based digital distribution service has been officially announced and named as A World Of My Own. According to Richard Branson, Virgin's chairman and a well known character in England, the curiously-named system "gives us the opportunity to do for PC games what iTunes has done for music".
Given what we already know about the system Branson's remark might not be as exaggerated as it first seems: we were told last June about a rental system that "negates the need for broadband" by "stripping games down to their core components" and streaming them ephemerally.
There's a very good reason why Valve abandoned the ephemeral model early on in Steam's development, but the "enthusiasm" of publishers, including the named Koch Media, who are fairly low-profile but nevertheless publish AAA games, suggests that developer Game Domain International's technicians may just have cracked it with their "AI-based content loading".
Unfortunately they and Virgin may have cracked in a different way too, if their long-term plans for AWOMO are anything to go by: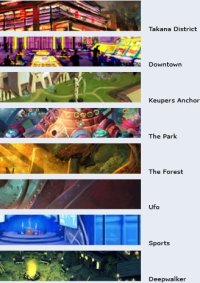 Concepts for the virtual island's locales.
In the second phase AWOMO will live up to its name and fully develop into 'A World Of My Own'. The island will open its doors and invite anyone and everyone to visit. A truly global community will be welcomed to meet their friends or make new ones. There will be shops, clubs, restaurants, apartments to rent and beach houses for sale. Cinemas, music venues, sports and even a motor racing circuit are there for the asking.

Your look alike avatar can dress in designer brands, after all — anything is possible in A World Of My Own.
It's like the nineties all over again. The good news is that AWOMO's initial launch will be without any such virtual reality gimmicks, strongly suggesting that we'll be able to use the service without having to wander through Second Life lite when — and if — it is eventually added.
AWOMO's other goals are more down-to-earth: "Multiplayer communities", "large cash rewards" at tournaments, "invisible patching", "unique opportunities [for] advertisers and sponsors", and of course streaming rentals. Given Virgin Galactic, even the extravagant boast of a trip to the moon as a top tournament prize is believable.
It's a powerful collection of ideas, but needless to say the unveiling of the system's name gives us little idea how it will perform, or what limitations it will introduce. The "stripping down" of games running through it sounds particularly ominous. Conversely, while a virtual reality island might seem like a pipe dream, it's worth remembering that the ephemeral streaming model, which shows every sign it can at this point of working, seemed an equally unlikely goal last July.
Even without its weirder features AWOMO is well worth keeping an eye on; we'll find out more about the project nearer to its third-quarter launch.
---