Shadowgrounds announced for Steam
Frozenbyte's old-school top-down shooter Shadowgrounds has been added to the Steam roster with an early May, $25 release planned.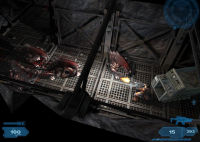 Shadowgrounds and Alien Swarm: Infested are almost direct competitors.
"Making Shadowgrounds available to Steam's eight million gamers is a great opportunity to get the game out to a wider market," said Steven Milburn, Director of Marketing at Meridian4. "Shadowgrounds' high-octane, addictive gameplay will be a good match with Steam's audience."

"Steam is the best online distribution channel, end of story. They are really pushing the online distribution model and I am glad Shadowgrounds is part of that," said Frozenbyte CEO, Lauri Hyvarinen.
Two things jump out from this piece of news: firstly, that Valve's figure of active Steam users has increased to the tune of two million, and secondly, that Valve have elected to distribute a game so similar to Black Cat Games' Alien Swarm: Infested, one of the first games developed outside Valve to be announced for Steam.
Not only that, but the two are the only remotely mainstream top-down shooters I can find in today's market, competing, unlike Day of Defeat: Source and Red Orchestra: Ostfront, for almost identical audiences. Indeed the only core difference I can find between them is Shadowgrounds' focus on single-player compared with Alien Swarm's on multi-player.
Frozenbyte released a 395MB Shadowgrounds demo in February which can be downloaded from the official website . Having stumbled across it before I don't think it's unfair to recommend a look; it provides honest entertainment for the duration of the demo areas at the very least.
---