PopCap deal brings Bejewelled and more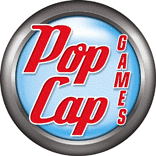 Steam is diving into the casual market with today's announcement of a distribution deal with PopCap Games, prominent casual developers and minds behind several of the casual industry's greatest hits.
PopCap's titles such as Bejeweled and Zuma are benchmarks of the casual games industry; generating over 175 million downloads and three billion player minutes per month. Steam is the first full-featured broadband platform for the delivery and management of games and digital content, and has pioneered its broadband services to over 10 million customers, generating over six billion player minutes per month, with core titles such as Half-Life 2 and Counter-Strike.

"The addition of PopCap Games' expansive library of leading casual games is an important step for the growth of Steam and direct distribution channels," said Gabe Newell, co-founder and president of Valve. "The benefits of Steam will now be provided to a much wider group of games and game customers. PopCap games by themselves are larger by an order of magnitude than the next-gen consoles online gaming services."

Initially, 17 of PopCap's products will be made available via Steam on August 30, 2006. Keeping with PopCap tradition, each PopCap game offered via Steam will be available for a free trial period as well as for purchase. And PopCap collection packages will also be offered.
A large departure, no question about it. Steam has traditionally been aimed solely at high-end titles such Valve's own or Red Orchestra, with lightweight offerings such as Codename Gordon and Darwinia being rare exceptions.
Who will buy?
Which begs the question of exactly how the games are going to be handled. PopCap co-founder Bryan Fiete states in the press release that PopCap's titles "appeal to all gamers, and not just some narrow 'puzzle game' niche"–strong evidence that they and Valve are aiming largely at existing Steam users, only too aware that those without an existing use for the client (that is to say, the typical casual gamer) will only be bogged down by purchasing through it and subsequently needing it to load every time they play.
Unless, that is, new features are on the way to make it worth their while. Xbox Live Arcade has led the way in this regard with its Leaderboards (online highscores) and Achievements/GamerScore, and it cannot be ignored that Valve's decision to release Team Fortress 2 on the Xbox 360 has exposed them to Microsoft's system.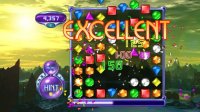 Bejewelled and several other PopCap games have already
made a strong showing
on Xbox Live Arcade.
Whether that existing Steam userbase (now numbering ten million, up another two million from April) will buy into casual games is a question the two companies obviously feel they have an answer to. It isn't unfair to suggest that hardcore FPS gamers won't be as enticed by Bonnie's Bookstore as the forty-something woman on her lunchbreak who usually personifies the casual market, but there is one hook that a PopCap will surely have considered: Friends.
Long-term Steam users will recall Friends 2.0's minigames, VGUI2 board and card distractions that could be launched from within any Friends-enabled game when sitting out the remainder of a Counter-Strike round, or as the old features page devilishly suggested, from the desktop while "dodging homework". Integrating their games into the VGUI system would allow PopCap to capture with one small motion a truly enormous captive audience, all looking for something to pass the time between death and the next round.
Subscriptions are the final point of interest to arise from the announcement. They are popular with web portals thanks to the rate at which casual games can be developed, partly a result of their simplicity and partly a result of their frequent, let us say, borrowing of ideas from existing casual titles. Subscriptions are already a part of Steam, running in the background for the Valve Cybercafe Program, but to this day have never been offered to consumers. With only seventeen titles in the initial batch we could well be seeing the foundations of an option for monthly access to PopCap's expanding Steam presence, alongside the standard à la carte and package purchase methods of course.
---