Matchmaking (doesn't) arrive with RACE
In our first release regarding RACE on Steam we mentioned the "retail copies of RACE sold for the PC in the EMEA territories will include Steam functionality for auto-updating, matchmaking, and anti-piracy encryption." That sentence should have read, "retail copies of RACE sold for the PC in the EMEA territories will include Steam functionality for auto-updating, installation and anti-piracy."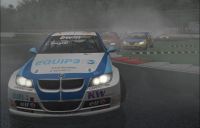 RACE has been developed with Steam in mind.
With the rush of back-catalogue titles appearing on Steam lately, it's been easy to forget just how cool it is when a third-party game uses the platform for something other than distribution. SimBin's upcoming RACE is the first title in a long time to really use Steam–in fact so keen are the developers that, for the first time since Half-Life 2, they are releasing a retail-led game with Steam as a requirement for boxed copies.
But the best is yet to come:
SimBin and Valve today announced an agreement to deliver RACE – The Official WTCC Game to consumers around the world via Steam. In addition, all retail copies of RACE sold for the PC in the EMEA territories will include Steam functionality for auto-updating, matchmaking, and anti-piracy encryption.

"Delivering RACE via Steam means over 10 million gamers will have the chance to purchase the world's first ever World Touring Car Championship game directly from their PC," said Henrik Roos, CEO of SimBin. "Powering the retail version RACE with Steam means every player will have all the latest content available for the game and be able to enjoy the industry's most advanced set [of] multiplayer services."
In case you missed it, RACE will be making use of a previously-unannounced matchmaking function built into Steam. Matchmaking! I won't lie to you: I'm already excited to see how the system functions, not to mention how it ties in with the desktop server browser and its prospects with other games. The lack of explicit mention of VAC either in the press release or on the game's Store page is slightly concerning, but there is still time for clarification.
Unfortunately, as we've seen from the quote above, the Steam-integrated version of the game will only be available in Europe, the Middle East and Africa. This does appear to be a slight spin on the fact that SimBin only appear to have negotiated any retail distribution at all for Europe, by way of Eidos, but it could still be that other parts of the world simply won't get the Steam edition in stores. Indeed the demo, released last month, doesn't appear to require Steam at all.
The press release is also vague on the matter of price. SimBin are independent developers, so there is potential for an online-first price structure. But as we heard from Scott Miller recently, it is increasingly retailers behind Steam's $50 games. Perhaps another reason for the game's limited boxed release?
---