EA Downloader launches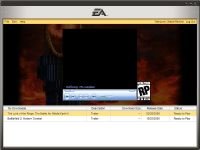 EA Downloader is a restrained implementation, but seems to get the job done.
Not long after agreeing to distribute Valve's games, Electronic Arts told gamers to 'expect a similar approach' to Steam from them in the future. It's here. EA Downloader is a small client application that, like Steam, allows you to login to an account and pre-load, download and update games bought online. While the system currently only offers expansion packs, for Battlefield 2 and, you guessed it, The Sims, the FAQ assures us that the selection will extend to cover demos and more expansions – with full games are nowhere to be seen.
Purchasing, oddly enough, isn't done through the client. You've got to go to EA's website and fill out the form there. It seems bizarre that EA should choose to orphan the purchasing process, particularly when an page or even simple link to open a standalone browser would do the job just fine, but they must have their reasons.
As far as copy protection goes, EA seem to have opted for a system where you must insert a CD from the parent game to use your download, a move which should help to calm DRM activists and explain why full games are not being offered. Whether CD cracks will come out as readily for downloaded versions as those bought in shops remains to be seen. Pre-loads are presumably encrypted to prevent early leaks.
EA have a reputation for being risk-averse (albeit with a few exceptions). If what you've read so far hints at this, the fact that downloaded copies cost the same as retail editions and will only be unlocked when those retail editions are released – including staggered launches in the different continents – screams it. Ever in-character, EA are pushing a very restrained digital distribution model where they benefit far more than the customer. Perhaps these early days aren't indicative of what EA Downloader could become, but I doubt it.
---