Steam Winter Update next week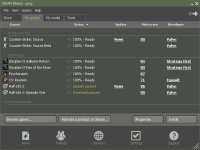 The new interface is based on the third-party Flat Series skin.
Another dry spell of Steam news is coming to an end. Next week will see the release of the "Steam Winter Update", the first such 'seasonal' release and a departure from Valve's previously iterative release schedule.
There's plenty going on, with the press release highlighting some key features:
New User Interface

Steam's got a new coat of paint. We've stripped away all the non-essentials and created a new streamlined appearance, available in five different colors.

Favorites

Steam's catalog of games has grown quite a bit over the past year or so. The new Favorites feature in the My Games tab of Steam allows for quick access to your favorite Steam games and additional functionality for personalizing your Steam library of content.

Background Client Updates

Since the Steam client was first released, it has always kept itself up to date — but now it'll do so without making you wait during startup. Instead, it will acquire new updates in the background and then (once they're downloaded) ask if you'd like to restart and apply them. Steam will also let you know what's new whenever a new update is ready to apply.

Guest Passes

Guest Passes allow owners of certain Steam games (purchased either via Steam or at retail) to let their friends play games for free, for a limited time trial. The first game to take advantage of this new feature will be Day of Defeat: Source.
We'll be hearing more and seeing screenshots in just a few hours as part of today's weekly Steam news, and I'll provide a direct link as soon as one becomes available.
As was mentioned, the fact that all of these new features are being released in one go is unusual–Steam's updates have in the past been almost entirely iterative. When a new feature was finished and tested, it was generally released there and then, on its own. The best explanation I can find for this apparent change of heart is that there is even more going on than the press release suggests: behind the scenes, this Winter Update may well be the long-awaited one that brings the Steam client's underlying code to version 3.0.
---