Turtle Rock developing standalone title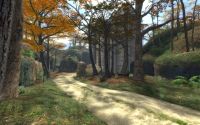 Turtle Rock's talent for mapping is well-documented.
Full-size image
.
So far, Turtle Rock Studios's work has consisted purely of contributions to Valve's various Counter-Strike titles with maps and the official CS Bot making up the bulk of their portfolio. No more: yesterday the announcement went out for Turtle Rock's 'next-generation' Source project, in which they are building a game 'universe'. Make of that what you will, because it's all there is to go on today.
"Working with Source and Steam allows us unprecedented flexibility in our development process, provides instantaneous world-wide distribution, and affords us the creative freedom to focus on building a game universe of our very own." said Booth. "We're excited to be working with this technology and to reveal more about the project over the coming year."
One thing we can be sure of: the map design will be gorgeous!
---