Hardware Survey 7: "Installed Packages"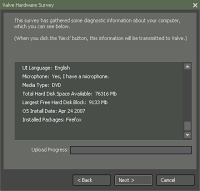 Valve want to find out how many Steam users have Firefox installed.
The Valve Hardware survey was reset for the seventh time yesterday. This time archives of all the previous surveys have also been made available, going right the way back to March 2004!
I'll leave any comparisons to statisticians. What drew my eye more was the "Installed Packages" result that is now tagged onto the end of Survey seven's results. It reports that Firefox is installed on my system — why I don't know but, having recently started browsing the Steam Community with Firefox instead of solely with Steam's embedded IE control, can take a hopeful guess at. Pretty please…
Has anyone seen any other packages appear in their results?
---