Red Orchestra: Ostfront 41-45 coming to Steam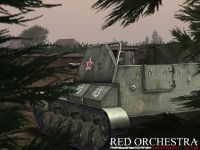 Red Orchestra will make interesting competiton for Day of Defeat: Source. Its support for vehicles may well be a key advantage.
Following hot on the heels of Darwinia, this month's PC Gamer UK carries the news that the celebrated WWII UT2004 mod Red Orchestra, which won the 'Make Something Unreal' competition and with it an engine license, will see a standalone sequel released on Steam this January, titled Red Orchestra: Ostfront 41-45.
"Digital content delivery is the future of gaming, and we are very excited to be a part of that future," said Tripwire Interactive President John Gibson. "Working with Valve to release the game over Steam allows Tripwire to remain independent and keep control of the games content and development. This allows Tripwire to continue to offer our fans the same uncompromising level of realism, authenticity, and gameplay they have come to expect from Red Orchestra while continuing to innovate and push the boundaries of the military FPS and simulation genres."
This is no port. The Red Orchestra team, now dubbed Tripwire Interactive, have been working solidly on their game for this standalone release, and it shows. It's beyond the scope of this site to write a preview, but a few minutes at the new official site should tell you everything you need to know. It seems Valve could well have selected another winner!
---