Rag Doll studio forsakes digital distribution
Last December Rag Doll Kung Fu developer Mark Healey announced that he had left Lionhead. On Friday his new studio was named, and it appears that Media Molecule has chosen the 'old media' path. The team of ten at the company—Healey, Alex Evans, David Smith and an unnamed collection of others—are currently three months into development of a "next generation" game, and working towards a demo to "secure a good publishing deal".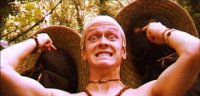 Rag Doll Kung Fu earned plenty of attention and many positive reviews.
Going for a publishing deal first is an unusual choice given the success of Rag Doll Kung Fu on Steam. Developing a next-gen game is also an unusual choice given RDKF's indie nature, and it is likely that the two are linked somehow. But why has Healey chosen them in the first place, and for his studio's first game to boot?
The strong retail deals negotiated by Tripwire Interactive and Ritual Entertainment followed on directly from the publicity and stability gained from the Steam distribution of their games. It seems like madness to step back into the gauntlet of courting publishers from the start of development, and although we know next to nothing about Media Molecule's game it is difficult to imagine an situation that would force Healey's hand in such a direction. I can only hope that the message given by the press release is misleading.
---