Half-Life 2 Black Box dropped
Valve have announced that the Half-Life 2 "black box" SKU will no longer be shipped, leaving PC players with either the orange box, which also contains Half-Life 2 and Episode One, or Steam, which is still set to offer a package of just the three new titles.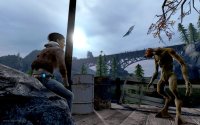 Valve are trying to convert existing retail customers to Steam.
This is clearly a move designed to let Valve undercut retailers by organising the availability of a clutch of highly-anticipated games online and offline, as happened at Half-Life 2's launch when Steam's Silver package gave far better value for money than retail options.
In this case, Valve are circumventing retailer's hold over minimum prices: stores can easily refuse to stock a product if it's being sold for less online, but refusing to stock a different pack because a theoretically less valuable one is being sold cheaper elsewhere might not go down so well with shareholders.
The reverse effect of retailers undercutting Steam is also undoubtedly on Valve's mind, as they lost a great deal of face when Episode One was sold on the high street and at e-tailers for less than its Steam price on day one. Will shops be willing or even able to cut prices enough to compete with a now unencumbered Steam? I doubt it. Unless you want HL2 or Episode One too, Episode Two's package, I predict, is going to be cheap.
This will also be a marketing experiment for Valve: what proportion of their cornered market of Half-Life 2 and Episode One owners will they be able to convert into Episode Two buyers? It will be a measure of their confidence whether or not we see any advertising for the Steam package outside Update News items.
---