Garry's Mod to be sold through Steam
Garry's Mod, the Source-powered physics sandbox famed across the games industry, is to be sold over Steam for $10 US (convert), with profits split 50/50 between Garry and his team of contributors and Valve. What is currently known as version 9.1 will lose its number and become the initial paid release, while the current version (9.04) will remain as a free demo. All updates will be free. The sanctioned selling of full, third-party mods is new territory for the games industry, and with no sign of Black Cat's Alien Swarm: Infested it seems that Garry's Mod will be the first to cross the line.
The practice has both its advantages and drawbacks, and I spoke to Garry to see where GMod falls among them.
The Deal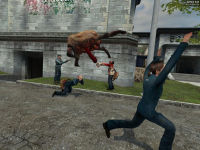 Straddling the line between genius and madness: 'Asscrabs'.
"A new GMod with regular updates for $10" is Garry's summary of the deal for buyers. It's the cheapest price point Valve maintain on Steam, and the same price as the voluntary donations that have bought keen players banners on scoreboards, enhanced forum features and beta access in the past – although, citing logistics and the gap between buying banners and games, Garry explains that those donators will have to pay again along with everyone else.
Garry also expects GMod to require an existing Source game in an account to be purchasable. It's not an unreasonable condition considering what buyers would get for $10 otherwise, and interestingly it is his hope that the new version will be flexible enough to work with any Source game without developer input: "If you only have CSS", he says, "it [would] recognise that…when Episode One is released GMod [would] realise that too and automatically mount the GCFs". It's only with the new technology in GMod 9.1 that this might be achieved, Source and Steam allowing: for instance, the new spawn menu has a configurable system of categories and filters from a base list of all of the resources available, and it will also automatically generate icons for anything spawnable, removing the need to produce icons for every object in the world, keep up with new releases, and worry about still not covering third party creations.
Community Concerns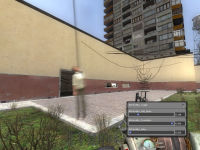 Effects like motion blur are receiving a welcome update…if you pay.
Steam might be helpful in that scenario, but exposing GMod to a new pool of players and excluding those who can't or won't pay is going to put the community under significant strain, and what comes out when the dust settles will almost certainly be very different, even if that settling takes several months. Garry is optimistic on the matter. "PetitionOnline will probably explode," he admits, "but eventually I think everyone will see that this is a great move".
The litmus test of whether or not they do that will be the relative sizes and productivity of the paid and free communities. The two versions will not be compatible, 9.1 being the rewrite it is, and as time goes on the gap between each will grow. Will more people pay than drop out? Will the older credit card-holding audience be as drawn to GMod's brilliantly silly, ad hoc gameplay? Will the new community without younger players be a better one? Garry certainly thinks so, but what will actually happen is anyone's guess. The potential gentrification of an online game should be interesting to watch.
Development Changes
Selling the mod has had one particularly interesting and unusual effect: despite having no license, Garry will receive the uncompiled Source Engine code, blurring the line between a mod and full game as well as overcoming the limitations of the free SDK. While Valve's increased take of the profits from each sale will eventually overtake the cost of a license, we are nevertheless seeing a new entry path for indie developers form, one where they can use Valve's top-of-the-line game and communication technology without footing the usual bills, at least in any traditional sense.

What is it with people and enormous, fully-functional robots? Meet Tyrannis.
That's a different story though. Garry's Mod has a legacy of casual development which will have to change when Garry becomes accountable to his customers. GMod has evolved significantly in the past, something that can't go on. "One of my original worries was that people would complain that they paid for it at version X…I'll be restricted as to how much I can change", Garry explains.
Another issue is related to Valve's "hard line" on third-party content in official games. Every contributor to one is required to sign an agreement, putting the kibosh on any integration with garrysmod.org and seriously reducing the scope for bundling community-built content (as opposed to what is created by Garry's small team), both today and in the foreseeable future. All the same, Garry is keen to share his wealth with those producing quality work. If he likes something someone has made enough he can offer them money to include it for everyone else – "something I've always wanted to do", he says, and an intriguing prospect for those with imaginations and enough spare time. Steam's upcoming Peer-to-Peer distribution system may or may not break the barrier down – more likely not, given its prominent 'install' button. We aren't going to see any competition to Second Life just yet…
The Future
There is one final surprise. "I was pretty much done with GMod", Garry says. "There was no reason for me to fix all the bugs (which required a whole lot of work). I planned to release a few bug/security fixes and leave it at that. This deal bought GMod back. There was a reason for me to work on it…the community wins that way".
Garry's Mod has been saved, but, quite literally, at a price. Or so it would seem. The actions and reactions of new and existing GMod players will define the success of these 'pay-mods' for some time to come, and I for one don't think anyone can predict what will happen.
---