Earth 2160 now available
Unless you count last Wednesday's SiN: Steam, Earth 2160 is the first game on Steam to be released entirely unannounced, popping up yesterday with no fanfare at all past the obligatory news post. It's just there on the Store page. Even the game's fansites seem unaware of the news.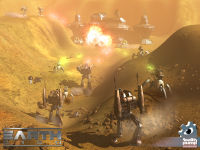 Will
Earth 2160
sell on Steam? With no readily available demo and no noticeable advertising, probably not.
A demo is available, if you find 2160's website (of your own accord: there is no link from the Store), navigate to the Downloads area and then ferret out a tiny link in a different part of the page from the main menu. All a potential customer has to go on, if he quite understandably can't be bothered to or doesn't know to do that, is a handful of (admittedly very good-looking) screens and some far-from-stellar reviews.
It could simply be that as the game isn't what you might call approachable, Reality Pump don't particularly want people to know too much about it and hope for some 'blind' sales. After all, their core audience is the RTS hardcore who already know everything they need to about the title. Yet, the situation is the same for Dangerous Waters (which at least has a trailer) and Space Empires IV: two obscure, specialist games with demos available that are neither provided nor linked to through the Store. This might be explained should demos be required to be exclusive, but as we've seen with the Darwinia demo and the Half-Life 2 demo's standalone Steam installer, that is hardly an issue.
Valve's forthcoming demo experiments are certainly interesting and worth waiting for, but in the meantime their policy of either no demos or demos only after a month of release is simply unproductive. When the demos have already been around for many months, why should they ever be held back?
---