The Double Fine question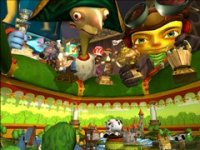 It's impossible to convey Psychonauts with a single screenshot, so I won't even try. Click through for a gallery.
One particularly good piece of news to come from Majesco's and Valve's recent contract-signing press release was that Double Fine's most excellent game Psychonauts would be arriving on Steam at some point this month. While I would feed justified making special mention like this purely on the game's many merits and tragic under-appreciation at retail, there are several noteworthy issues surrounding it also.
Design lead and industry veteran of Monkey Island fame Tim Schaefer spoke to the Guardian this August:
Definitely, we're looking at distribution by download. It's a promising avenue. … We're definitely interested in downloadable content to make smaller games, just because it would be nice to make a game in less time than most modern games, which usually take about two to three years. Back when we did Monkey Island, that was only about nine months.
Before we get to carried away with the very pleasant notion of Double Fine producing episodic games for Steam, a reality check is in order: the group's next game is being published by Valve's old friends Vivendi Games, both excluding their future projects from the Majesco contract and placing them at the mercy of a publisher with every reason to hold no great love for digital distribution, not to mention Steam.
Fortunately this fact doesn't quite preclude our merry theorising: Valve and Vivendi parted out of court and on "good terms" (if anyone can find the interview with that VU rep quote in, I would be grateful), and Double Fine have described the publisher and their contract with them as "developer-friendly".
Nevertheless, the relationship makes a question out of what I would have otherwise have happily called a certainty. Just how good were the terms, and just how developer-friendly is the contract? Watch this space.
---