Dark Messiah coming to Steam
Ubisoft's first-person fantasy combat title Dark Messiah of Might & Magic has had its Steam distribution all but confirmed, with registration for its upcoming public beta requiring an account.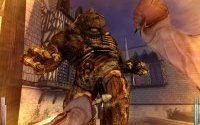 Dark Messiah is Ubisoft's first experiment with the purchased Might and Magic franchise. [
Full Image
]
Powered by Source, speculation over whether Ubisoft would release Dark Messiah through Steam had been quashed for most of the game's development cycle by the company-wide use of the StarForce copy protection system. While there are no known incompatibilities between Steam and StarForce protection (mainly because nobody has ever tried combining the two), distributing a copy of the game that did not require a CD for StarForce to validate would make its tight and largely unbroken security useless, with Steam's current DRM scheme offering little protection for single-player games from anything but casual piracy.
However, with Ubisoft's decision to cease protecting their games with StarForce Steam is an attractive option again, and it seems highly likely that Ubisoft have decided to seize upon it.
Will this develop into a wider relationship between Ubi and Valve, following on from Atari? The publisher already makes good use of other distribution services, primarily Direct2Drive, so it may well turn out that way.
---