Darwinia coming to Steam Dec.14
In last week's Update News Valve spoke of a new game that would be arriving on Steam 'before the end of the year'. It seem Introversion have let the cat out of the bag early: Darwinia will be available on Steam from December the 14th.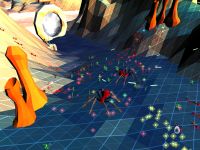 Darwinia is a modern classic that has suffered from very scrappy distribution outside its native Europe.
This is brilliant news for everyone involved: Introversion, Valve and especially us gamers. Darwinia is a true modern classic, but one that has seen severe distribution problems outside Europe. Steam distribution is a subject that has already been discussed by the Darwinia community, and while for my part I was cautious of offering a wholly single-player game on a platform geared for mutli-player, I'm still delighted Introversion have taken the jump.
"In today's market, it's incredibly difficult for an independent developer to secure worldwide distribution for a new property, let alone for one that attempts to blend genres and offer a wide variety of gameplay styles," said Vicky Arundel, head of marketing at Introversion. "Through Steam, however, we are able to offer Darwinia to millions of gamers and early adopters the world over."
In fact my only question is the date of mid-December. In a retail environment a Christmas release would make sense, but with the technically infinite shelf-space of digital distribution release could conceivably come at any time, as long as the holiday season was backed up with an advertising campaign. Integrating the Steam code certainly can't take this long.
But I shouldn't be moaning. The bottom line is, this news is a win-win for everyone and resolves every petty issue I ever had with Introversion's handling of digital distribution. If you don't already have Darwinia, keep your $20 ready for Christmas!
---